,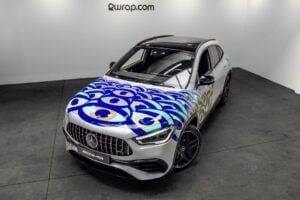 Get to know "The Art of Chase".
The eyes that look at you on this Mercedes-AMG GLA 45 is an exclusive design by Chase. Specially designed by Chase for the Zoute Grand Prix 2021 in Knokke Zoute on behalf of Hedin Automotive, Belgium's largest Mercedes dealer.
This design was printed and installed by 2wrap.com, a Belgian company that specializes in premium wrapping of exclusive vehicles. Their successful branch in L.A. works exclusively with "The Art of Chase".
Chase is a Belgian artist, who has gained fame over the past 10 years in Los Angeles, and he also lives and has his studio in LA.
He is known for his quirky, somewhat psychedelic, but often funny murals in which the eye is his trademark.
"Eyes have been a symbol of the divine and of consciousness throughout the ages. I want my work to be inspiring and motivating from that perspective as well," says Chase.
The city of Los Angeles often commissions him for major projects because his artworks bring life, color and positivity to the most diverse spaces and neighborhoods. This earns him appreciation by people of all ages, especially kids.
In addition to L.A., "the Art of Chase" can also be found in Tokyo, Paris, London and New York, among others.
Maak kennis met "The Art of Chase".
De ogen die u aankijken op deze Mercedes-AMG GLA 45, zijn een exclusief ontwerp van Chase, en werd speciaal ter gelegenheid van de Zoute Grand Prix 2021 in Knokke – Zoute door hem gedesignd in opdracht van Hedin Automotive.
Chase is een Belgisch kunstenaar die de afgelopen 10 jaar bekendheid verwierf in Los Angeles, waar hij ook woont en zijn atelier heeft.
Hij staat bekend voor zijn eigenzinnige, soms wat psychedelische, maar vaak grappige muurschilderingen waarbij het oog zijn handelsmerk is.
"Ogen zijn door de eeuwen heen een symbool geweest van het goddelijke en van het bewustzijn. Ik wil dat mijn werk in die optiek ook inspirerend en motiverend is", aldus Chase.
De stad Los Angeles geeft hem vaak opdrachten voor grote projecten omdat zijn kunstwerken leven, kleur en positiviteit brengen in de meest uiteenlopende ruimtes en buurten, wat hem steevast de appreciatie oplevert van jong én oud.
Naast L.A. is "the Art of Chase" ook te vinden in onder meer Tokyo, Parijs, London en New York.
Deze Mercedes-AMG GLA 45 – design werd geprint en gerealiseerd door 2wrap.com, een Belgisch bedrijf dat zich specialiseert in premium wrapping van exclusieve voertuigen.  Hun succesvol filiaal in L.A. werkt exclusief samen met
"The Art of Chase".