VEHICLE ADVERTISING WRAPS
Vehicle advertising wraps are the most cost-effective form of advertising available to your business. They offer the lowest cost per thousand impressions of any advertising medium. It makes sense, right? You are utilizing the rent free space you already own. With any other advertising option you choose, there is some sort of rent involved. This is not the case with your own vehicles. Combine this with the fact you have to have the vehicles to operate your business and they go exactly where your customers and prospective customers are, it's easy to see why vehicle wraps are the right choice. This is not to say they are the only choice, no but it's the most cost-effective choice. They reinforce the brand and message conveyed across radio, web, tv, transit, billboards, brochures, business cards, etc. Take advantage of your rent free space first and then decide what other advertising fits into your budget. It just makes sense and will greatly impact your return on investment in a very positive way.
most cost-effective form of advertising
This chart shows the adverting impression statistics based on a $3000 budget
from small to the largest vehicles, size and shapes, it just doesn't matter ! 
From the smallest cars to biggest trucks, to motorcycles, trailers and boats, we install custom made graphics on any size of vehicle.

Our experienced team covers your fleet vehicles with a thin, adhesive vinyl specifically created for your fleet marketing needs.
From the vehicle graphic design, all the way to the printing and installation process,


has your satisfaction in mind.
a specialized team of designers will create…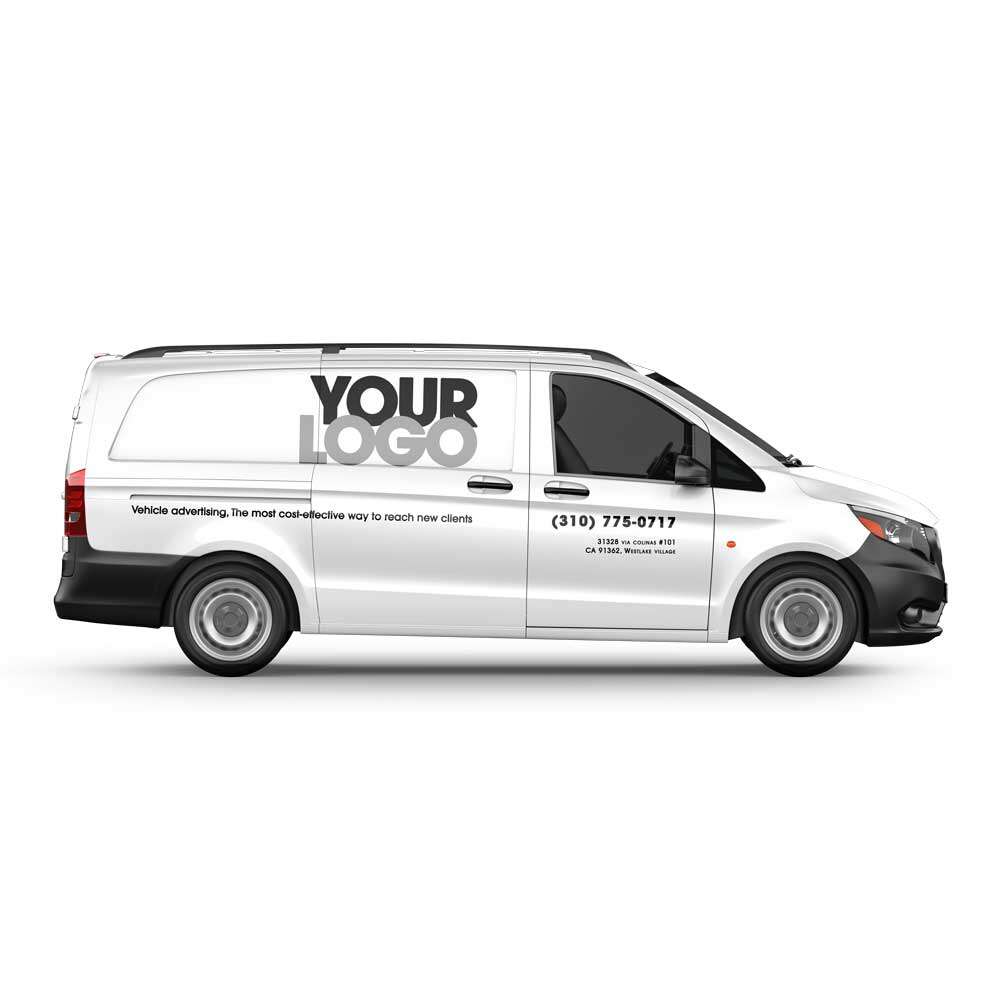 Base vehicle graphics aka lettering.

Lettering or called "die-cut decals" are ideal for anyone on a tight budget, particularly those who simply want to feature their logo, phone number, and URL on a vehicle.

This option is low-cost but extremely effective at delivering a message to your target audience.

The long term benefits of vehicle graphics continue to grow after they are placed on your fleet. They will be viewed by thousands of people per week on the road and the long term recognition of your company message will help make you top of mind in your field.
Spot Graphics, our most popular option for start ups.

Add your brand colours to help get your fleet seen. A cost effective option if you have many vehicles to brand on a budget. but still in an original way.

Colorful and vibrant vehicle graphics grab the attention of consumers while delivering your branding message. Vehicle graphics are designed with the sole purpose of promoting your business. Eye catching vehicle graphics feature such items as: -Your company logo -Main marketing message -The phone number of your business -Social media platform adresses – …
Save money while making a big impact on your target audience.

The size, and cost, of a full vehicle wrap might not be what you have in mind for your business.
Make a big impression on consumers with a partial vehicle wrap.  Your vehicle graphics will be strategically placed on certain area of the vehicle to deliver your brand the maximum impact it deserves. We design and create partial vehicle wraps with the same attention to detail as a full wrap but they cost less than a full vehicle wrap.
A partial wrap blends with the color of
the vehicle, making it a more economical option compared to a full vinyl
cover. We use the highest-quality cast vinyl (3M or Avery Dennison)
with a UV overlaminate cast. These wraps can cover 1/4 to 3/4 of a
vehicle and are as effective as complete vinyl coverage if properly
designed and applied.
Full vehicle wraps deliver a big marketing impact on vehicles of any size including cars, trucks, vans and motorcycles.
Make a marketing statement customers won't forget with a full vehicle wrap.
Wrapping the entire fleet ensures you are using the most ad space possible with your vehicles. A vinyl carwrap, that features your company name and logo on the road each day, delivers millions of marketing impressions per year.
Spotlight your company name and marketing message with a colorful full vehicle wrap.
Cool to know :

If you need to wrap your entire fleet, you don't need to worry about the vehicles original color.  Just get the best deal at your dealership, no matter what brand, no matter what type of vehicle, they all will look the same in your brandingcolors. + they all are totally protected against debris and stonechips !
price depends on several factors
The total cost of your vinyl car wrap depends on a number of factors:
The size of the wrap
The number of colors you want to use
Whether you prefer a full or partial vehicle wrap
The number of vehicles in your fleet/The number of wraps being produced
For more information, and to get your free vehicle wrap quote, contact us.
Fleet Graphics & Van Wraps
Your company van is an advertising opportunity waiting to happen.
Full, or partial, van wraps take advantage of your already existing advertising force – your fleet of vehicles – to deliver your message to the public.
Don't worry if your business has multiple selling points. The fleet graphics do not have to be the same on each vehicle. Take advantage of your multiple vehicles by utilizing a variety of fleet graphics on different vehicles.
Using different graphics on your fleet of vehicles will expand your branding efforts while allowing you to place specific messages on certain types of vehicles.
From a pickup to a tractor trailer, trucks come in multiple sizes with a lot of real estate available to brand your business.
Truck wraps, consisting of custom made vehicle graphics, strengthen the identity of your brand and provide your business with a professional image.
Turn your fleet vehicles into a promotional machine with eye catching vehicle graphics that demand the attention of customers.
It's a fact that most people either drive a vehicle, or ride in a vehicle each day, to get to and from work or to simply run errands.
Trailer wraps promote your brand and share your message with the world on a daily basis. People from all walks of life, covering a wide range of age categories and ethnicities, are on the road for many hours each week. They are ready and waiting to be exposed to your business.
Trailer wraps spotlight your brand to all demographics at any time of the day or night.
Take advantage of the large scale, innovative designs that can be created for your company with a bus wrap. Bus wraps attract the attention of drivers and passengers with colorful and informative vehicle graphics that grab their attention.
A bus travels through multiple areas of the city each day. This means your message is in front of different audiences throughout the day.
Let our experienced team take you from "who is that" to top of mind awareness with consumers across the city with an informative and interesting bus wrap.
A custom wrap can cover any type of vehicle.
From a vehicle fleet consisting of one car to a fleet that has multiple large trucks and vans, custom designed wraps that feature vehicle graphics attract attention and create brand awareness.
Custom wraps play a big part in modern marketing efforts. Take advantage of the open spaces you have on your fleet vehicles, no matter the size of the fleet, with a custom wrap that promotes your business.
Learn more about the benefits of designing, printing and placing fleet graphics on your vehicles by giving us
quote
Based on the info you provided, we will make you a personalized quote.
Free, without any obligation.
Get Started
quote approval
After your approval the journey starts.
Brainstorming and Mood boarding
Our team will generate ideas. Prepare to reset your expectations.
They are limited only by your own imagination.
Soon you will be amazed.
mock-up time
Your idea is coming into reality.
We will offer you an impressive and exclusive design.
Even in 3D if your vehicle is in our library.
design process Back & forward
We craft your vision.
In dialogue with you, our team brings the design to life.
design approval
The design is realized. It is shown for your approval.
installation
After your approval, we make room in our agenda to install the design of your dreams.